Hinterland. y gwyll.
Never has location and 'sense of place' contributed so much to the power of television drama.The Welsh 'y gwyll' (literally 'the dusk') suggests a mysterious place at the edge of the world. The series was filmed in and around Aberystwyth, the Ceredigion coast and the raw landscape of the Cambrian Mountains. Come and visit this area with its undiscovered landscape of wooded valleys, upland forests, lakes and reservoirs, isolated farmhouses and open moorland which create the perfect location for the intrigue and drama of hinterland / y gwyll.


Y Smythy (Our Neighbours)
"Hello, we are best friends Tom and Adam. We've been lucky enough to grow up just outside of Aberystwyth in mid Wales. Our passion is Blacksmithing, so having just finished college we decided to set up our own Blacksmithing and metal work business together".
"Everything we make is handmade and therefore no two items will be exactly the same, which we feel is part of the charm.
We are more than happy to discuss any ideas you might have for bespoke items, so please don't hesitate to get in touch".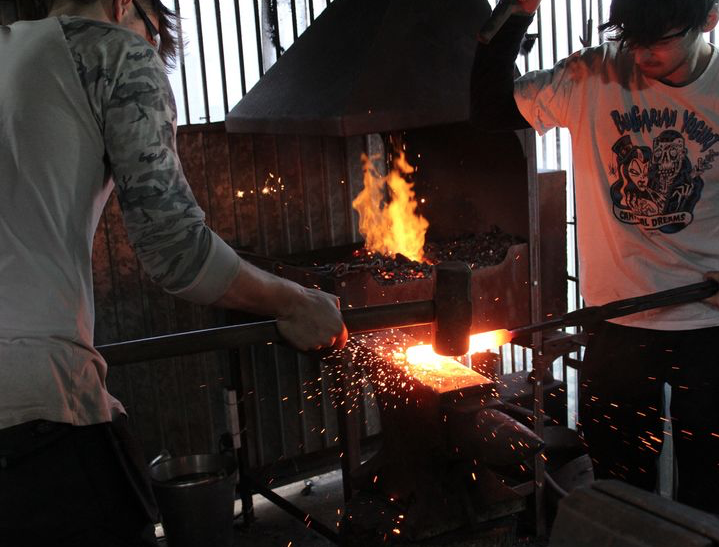 STAY 7 NIGHTS & GET 10% DISCOUNT
We are offering a 10% discount on bookings of 7 nights or more.
Offer is based on the Bed & Breakfast price only and applies only to bookings made direct with Brynarth, not via any booking agents.
Gift Vouchers and Treats!
Why not treat someone special to a weekend break in Wales, we can send you Brynarth Gift Vouchers to give them and also arrange for chocolates and flowers to be put in their room.